Wealth Club today announces the launch of its new service: the Quality Shares Portfolio, a discretionary portfolio of global shares managed by Charlie Huggins.
Charlie previously managed the £300+ million HL Select UK Growth Shares Fund, which generated a total return of 64.7%, versus 38.7% for the peer group (ranking the fund 26th out of 209 funds in the sector) in his five-year tenure (from launch to Dec 2021).
The Quality Shares Portfolio is not a fund, so there are no constraints, quarterly performance targets nor imperatives not to stray too far from a benchmark. Charlie's decisions are solely driven by where he sees the very best long-term growth opportunities, in the UK, North America and Europe.
The result is something markedly different from anything else an investor might hold: a high-conviction, global portfolio of 15-20 exceptional businesses picked for their resilient business models, deep competitive advantages, exceptional cash generation and strong culture.
Charlie Huggins, Head of Equities at Wealth Club said: "We've called this the Quality Shares Portfolio because that's exactly what investors get. A small number of exceptional-quality shares chosen and managed by me, with a significant portion of my own money invested alongside theirs."
"The companies I'll invest in provide critical goods and services such as chemicals for premium skin creams, data that insurers and lawyers rely on every day to make decisions, and even employee card/badge readers. They're the type of businesses where you can bury the share certificate, dig it out 10 years later, and find the profits and cash flows are materially higher. Or at least that's what I hope. Companies like this are few and far between. I've rejected hundreds of good ideas, to focus on the very best. And I've been totally uncompromising – fewer than 20 have made it into the portfolio."
"The Quality Shares Portfolio will deliver an unrivalled level of transparency and service to clients. I'll communicate with investors regularly, discussing what's worked and what hasn't. They will see every share in the portfolio and I'll explain why I invested."
Alex Davies, CEO and Founder of Wealth Club said: "Charlie is one of the most talented fund managers I've come across. I have known him for 12 years: I gave him his first job at HL fresh out of Oxford University and have been waiting for an opportune time to work with him again. After a year of behind-the-scenes work, I'm delighted the portfolio is now ready and I am investing a significant amount of my own money."
"In an investment landscape dominated by closet trackers, often too focused on what's trendy right now or what might make the fund look good at the next quarterly review, Charlie's approach is a breath of fresh air."
His style embraces patience, common sense and simplicity, cutting out market noise and focusing on the culture of an organisation. Rather than drowning out the performance with a typical 50 or so companies, Charlie will be concentrating on 15 to 20 truly exceptional ones which could provide equally exceptional long term returns. The result is something unlike any other investment you own."
About the Wealth Club Quality Shares Portfolio
The Wealth Club Quality Shares Portfolio is a high-conviction portfolio of 15 to 20 shares chosen by Charlie Huggins, Wealth Club's Head of Equities, to deliver long-term capital growth. The portfolio will invest in North America, the UK and Europe.
The portfolio won't look like a typical fund – and that is by design. The table below outlines the key differences:
| | |
| --- | --- |
| What you get with most funds | What you get with this portfolio |
| Excessive diversification (50+ positions) | High conviction (15-20 positions) |
| Short-term decision making | A patient, long-term approach |
| Same names – e.g. Amazon, Alphabet, Unilever | Many niche, under-the-radar market leaders |
| Benchmark and liquidity constraints | Very few restrictions |
| Top 10 holdings with limited commentary | Every holding, regular communication |
| Units in a unit trust or OEIC | Individual shares |
The Quality Shares Portfolio can be held in an ISA and General Investment Account, and is exclusively available through Wealth Club. Clients can invest lump sums or make transfers from other providers. The minimum investment is £10,000.
The details
Type:
Discretionary Share Portfolio
Minimum investment:
£10,000
Geography:
Global
Initial charge:
Nil
Annual custody charge:
0.25%
Annual management charge:
1%
Next deadline:
22 Mar 2023
About Charlie Huggins
Charlie joined Wealth Club in April 2022, after working for over 10 years at Hargreaves Lansdown, including five years as a fund manager. He was the lead-manager on the HL Select UK Growth Shares Fund and co-manager on HL Select UK Income Shares (from launch to December 2021).
Under his tenure, HL Select UK Growth Shares delivered a total return of 64.7%, versus 38.7% for the IA UK All Companies sector, ranking the fund 26th out of 209 funds in the sector.
Prior to managing funds, Charlie worked as a Fund Research Analyst. He is a CFA Charterholder as well as holding the Investment Management Certificate (IMC) and a diploma in regulated financial planning. Charlie studied Biochemistry at Oxford University, gaining a First Class Master's Degree.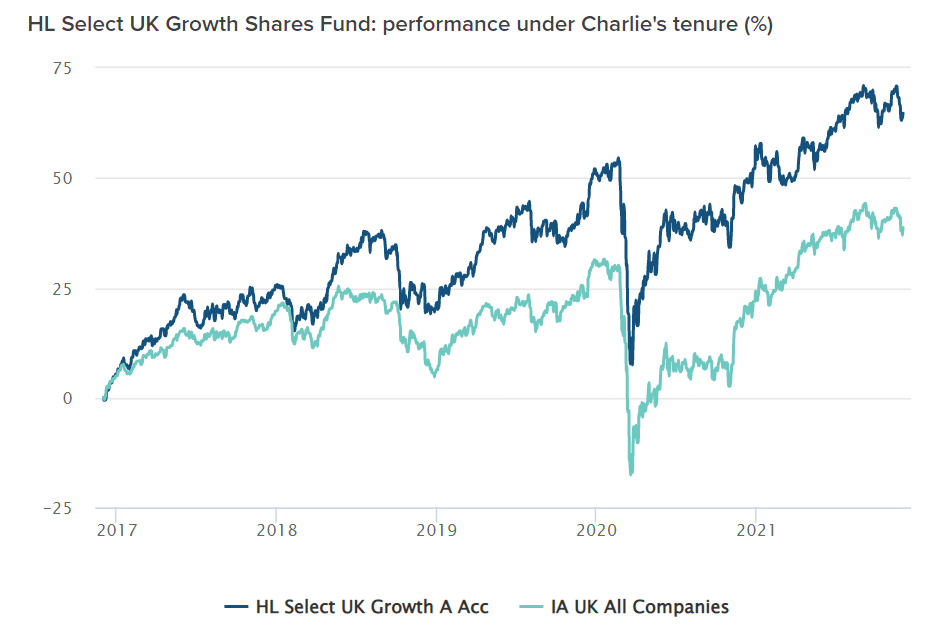 | | | | | | |
| --- | --- | --- | --- | --- | --- |
| Annual Performance Growth | 01/12/2016-01/12/2017 | 01/12/2017-01/12/2018 | 01/12/2018-01/12/2019 | 01/12/2019-01/12/2020 | 01/12/2020-01/12/2021 |
| HL Select UK Growth Shares (Acc) | 22.0% | 2.2% | 15.6% | 1.7% | 12.2% |
| IA UK All Companies | 15.3% | -3.2% | 12.4% | -6.3% | 18.0% |
Past performance is not a guide to the future. Performance is shown net of fees on a bid-to-bid basis, with dividends reinvested. Source: Morningstar, 01/12/2016 to 01/12/2021. Charlie managed the fund from launch until he resigned in the latter part of 2021.