St. Patrick's Day is one of the most lively and entertaining festivities in the calendar, and an opportune time to celebrate everything Irish. However, the cost of living crisis means that we are all as eager as ever to save our money.
During this time, saving your money while out celebrating St. Paddy's Day doesn't have to be a complicated process. A large price difference can be found simply in the different areas, pubs and bars where you can get a pint of Guinness. As a result, just changing the place or pub you choose to party at can save you a fortune.
We've done the research so you don't have to. With our interactive maps and convenient table, we have put together easy-to-understand data to show you the cheapest places where you can get a Guinness from across the country.
If you're looking for the best value places to get a pint of the black stuff, check out this guide from Love Discount Vouchers, the home of discount, voucher and promo codes.
In our research, we have taken the time to put together the prices at which several different bars and pubs within an area serve their Guinness and have used this to create an average per region. In total, we asked over 250 pubs how much their Guinness costs for a fully in-depth survey.
As a result, you can take a look at how Greater London compares to other regions within its average Guinness price. We think the result is particularly interesting!
If you take a look at our full article, you'll be able to see some fascinating results. You'll be astounded to hear that the cheapest pint of Guinness you can find in the country is in Halifax in the Barum Top Inn. Alternatively, the most expensive we found was in Rutland at The Olive Branch.
From this result, you may have predicted that there is a particular trend you can notice when it comes to the north and south of England. Generally, the north of England boasted the counties with the best Guinness prices with County Durham, Staffordshire and Merseyside being the cheapest. On the costlier side, East Sussex, Hampshire and Greater London further south were the areas you could find the most expensive Guinness.
However, you can find exemptions to the rule. In Llandudno, The King's Head had a particularly eye-watering price for an otherwise cheaper UK region. On the other hand, The Royal Oak in Didcot had a fairly reasonable price in a region where otherwise it can be hard to find a cheaper pint.
As well as the previously mentioned Barum Top Inn, these were some other pubs in the UK that caught our eye with their fantastic low-cost Guinesses:
The Kings Arms – Barrow-In-Furness
The Stag and Monkey – Hartlepool
The Bull Rugby – Rugby
Gleesons – Holyhead
Molly Malone's – Glasgow
To find out in further detail about the cost of Guinness across the UK and see the prices for yourself, take a look at our article to find out more.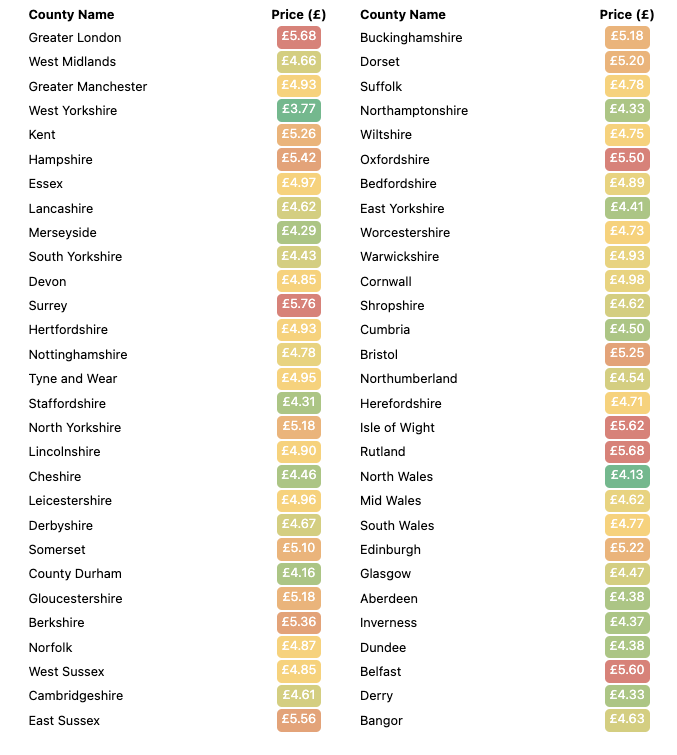 Adrian Yearwood, Director at Love Discount Vouchers, said: "As such a wonderful celebration, St. Patrick's Day shouldn't be a day where you end up spending a fortune. Using our research, save your hard-earned money by choosing the best value pubs and bars with us!"